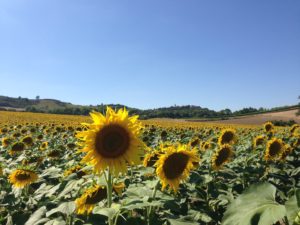 Font Saint Martin is surrounded by the rolling hills typical of the French countryside in the Languedoc region.  In summer time the fields surrounding the house are packed with sunflowers following the path of the sun across the sky.
Our local village is Fanjeaux, a 5 minute drive away.  Fanjeaux is the former home of Saint Dominic of the Catholic Church's Dominican Order.    There is a tabac, grocery shop, butcher, Post Office and restaurant in Fanjeaux.
A 20 minute drive takes you to Mirepoix, a beautiful medieval town with a typical town square and many open air cafes where you can sit and watch the world go by.  On Monday morning a large traditional market opens in Mirepoix, selling local fruit and vegetables, meats and cheeses.
A number of recreational lakes can be found a short drive away such as Lac de la Cavayere, Lac Montbel and Bassin San Ferreol.  These are great for walking around, sunbathing, swimming and boating.
The main attraction of this area is the medieval city of Carcassonne, just a 30 minute drive away.  A UNESCO World Heritage Site, Carcassonne is a stunning fortified castle and city with a fascinating history.
Just over an hour's drive can take you to the Mediterranean Sea or the Pyrenees Mountains.
Our guest book at the house lists all of our favourite activities, sightseeing and restaurants, but in the meantime, please don't hesitate to ask.