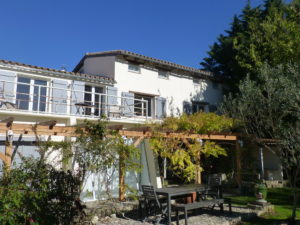 Font Saint Martin is a holiday home just outside the village of Fanjeaux in southern France. The house is close to Carcassonne, Mirepoix, Pyrenees mountains, lakes, cycle routes, hiking routes, Mediterranean sea, and vineyards.
The house can be rented as three bedrooms, sleeping up to six people, or five bedrooms, sleeping up to 14 people.
It's a perfect house for family holidays or groups, offering spacious accommodation with a garden and swimming pool (heated outside July and August). The private, hilltop location affords stunning views.
The house is light and airy. The garden is a mix of sun and shade. The only sounds are the wind in the trees, the birds singing, and the occasional tractor passing by.
One guest review reads:
"With the comforts of a family home, the romantic history of an ancient farmhouse and the luxurious touches of a boutique hotel, Font Saint Martin is an utter delight. Perched atop a hill, at the end of a long winding driveway that will make you question the SatNav, this is solitude, peace and nature at its finest. The rainwater showers, luxurious bed linen and flatscreen TV made life very comfortable, while the well supplied kitchen and cosy dining areas (including four outdoors so you can chase the sun or the shade) made it a real home-from-home that we didn't have to leave unless we really wanted to.
But with glorious Mirepoix, magnificent Carcassonne and the enchanting medieval seaside town of Gruissan all within easy reach, it's a tough choice between a day by the pool watching the lizards run along the walls, or visiting all that this wonderful corner of France has to offer.
We only stayed at Font Saint Martin for five days, and it was too short. Even the one rainy day didn't bother us, thanks to the old barn that comes equipped with table tennis, basketball hoop and Nerf Guns. As a family of four I was worried that it would feel too big, but the house has been designed so thoughtfully that it is cosy and welcoming.
The children could run wild without danger, while we adults sat and drank the local wine and plotted a retirement that might possibly include endless views of the French countryside.
We loved our stay at Font Saint Martin and wouldn't hesitate to recommend it."
Read more reviews on Facebook and TripAdvisor .