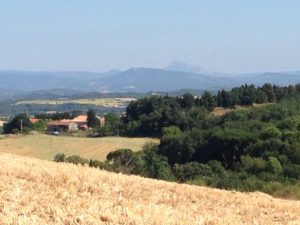 Fanjeaux is 10 minute drive from the A61 or 'Autoroute des Deux Mers' connecting the Mediterranean to the Atlantic.  The A61 connects with the efficient French autoroute system.
The house is approximately 10 hours from Calais, eight hours from the Brittany ferry ports, and five hours from the Spanish ferry ports of Bilbao and Santander.
The closest airports are Carcassonne (served by RyanAir)  in 30 minutes and Toulouse in 60 minutes.  You can also consider flying into Perpignan or Beziers.
We do recommend car hire for our location.  Please email us for travel advice.