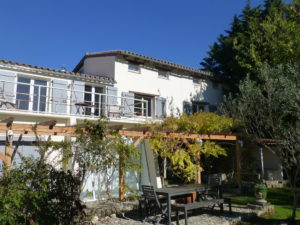 Font Saint Martin is a holiday home just outside the village of Fanjeaux in southern France.  The house is close to Carcassonne, Mirepoix, Pyrenees mountains, lakes, cycle routes, hiking routes, Mediterranean sea, and vineyards.
The house can be rented as three bedrooms, sleeping up to six people, or five bedrooms, sleeping up to 14 people.
It's a perfect house for family holidays or groups, offering spacious accommodation with a garden and heated swimming pool. The private, hilltop location affords stunning views.
The house is light and airy. The garden is a mix of sun and shade. The only sounds are the wind in the trees, the birds singing, and the occasional tractor passing by.
Read what our previous  guests have said about staying at Font Saint Martin on Facebook and TripAdvisor .